الأخوة والاخوات الأحبة:
يسر اخوية مار توما دعوتكم للقائها الأسبوعي لهذا الاحد 3/6/2018 في محاضرة للأب هديل البابو بعنوان: (خطيئة الحسد)، تكملة لسلسلة محاضرات ( الخطايا السبع).
يقام اللقاء في قاعة كنيسة مار توما الرسول عند السابعة مساءً، وسيكون لنا ضيافة خفيفة بعد المحاضرة.
نتمنى حضوركم ولقائكم جميعاً
نعمة الرب معكم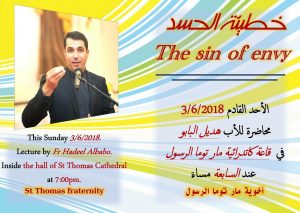 Dear brothers and sisters
We would like to invite you all to our upcoming event for this Sunday 3/6/2018 In a lecture by Fr Hadeel Albabo, titled: ( The sin of envy)
The meeting will be taking place in the hall of St Thomas church at 7:00pm. 
A light refreshment will be provided after the lecture.
Looking forward to seeing you all then.
God bless